On August 25, 2022, the SEC adopted a final rule to implement the pay versus performance disclosure requirements mandated by the Dodd-Frank Act. The rules are intended to provide insight into the relationship between compensation "actually" paid to senior executives and financial performance.
The rules will apply to all reporting companies, except foreign private issuers, registered investment companies, and Emerging Growth Companies. Smaller Reporting Companies will be permitted to provide scaled disclosures.
The disclosures are included in new Item 402(v) of Regulation S-K. The disclosures will start with a table that will include specified executive compensation and financial performance measures. The form of the table in new Item 402(v) is: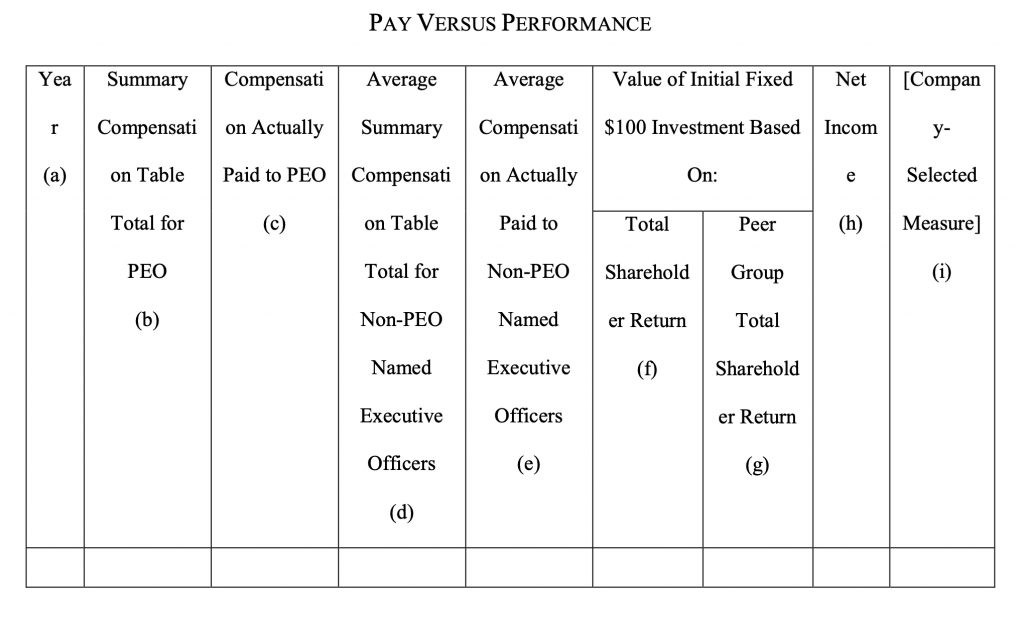 The information will be provided for five years. As the above column headings illustrate, the information required in the table will be provided for the company's principal executive officer ("PEO") and, as an average, for the other named executive officers ("NEOs"). Included in the disclosure will be the Summary Compensation Table measure of total compensation. It will also include a new measure, "executive compensation actually paid." The computation of "executive compensation actually paid" is specified in the rule, and in general starts with total compensation from the Summary Compensation Table, adjusted for certain pension and share-based payment benefits.
The financial performance measures to be included in the table are:
Total shareholder return ("TSR") for the company;
TSR for the company's peer group;
The company's net income; and
A "Company-Selected Measure" that should represent "the most important financial performance measure used to link compensation actually paid to the NEOs to company performance for the most recently completed fiscal year."
The new disclosure must include "a clear description of the relationships between each of the financial performance measures included in the table and the executive compensation actually paid to its PEO and, on average, to its other NEOs over the five most recently completed fiscal years."
The relationship between TSR and peer group TSR must also be discussed.
The new disclosure will also include other financial performance measures that a company determines are its most important measures of performance.
This information must be tagged with Inline XBRL.
You can find details in the accompanying Fact Sheet and final rule.
The new rules will be effective 30 days after publication in the Federal Register. Companies will be required to make these new disclosures in proxy and information statements that include Item 402 executive compensation disclosure for fiscal years ending on or after December 16, 2022.
You can read statements from Chair Gary Gensler and other Commissioners at the "Speeches and Statements" section of sec.gov.
As always, your thoughts and comments are welcome!